6 Ways to Do More with Lot Codes
You can do a lot more with lot codes than you may realize. Once you've automated recordkeeping, you can respond to recalls, regulatory requests, and market shifts with confidence and agility.
What You Need to Know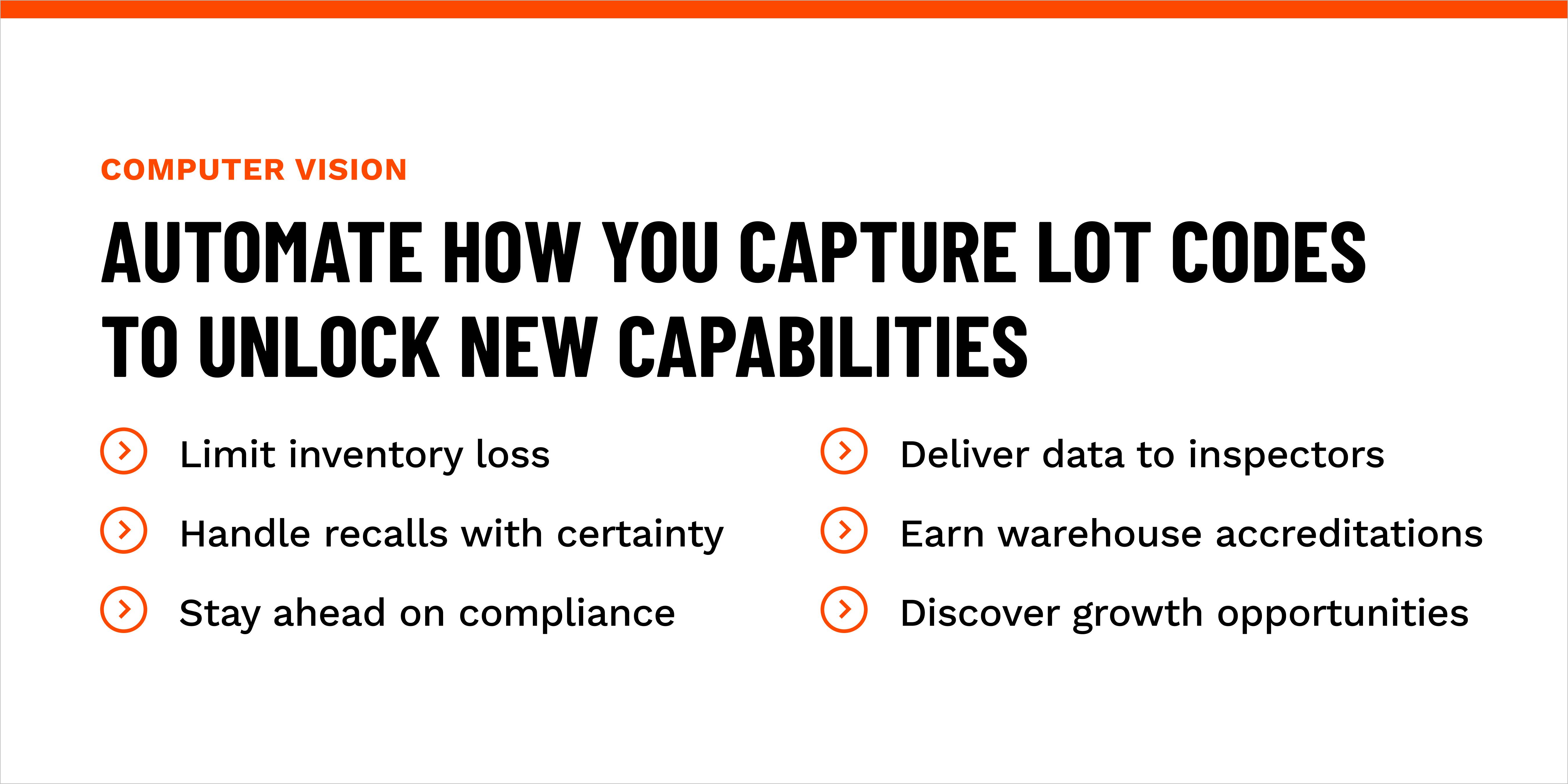 Lot codes reflect the supply chain journey of a batch of products at specific stages. Which stages fall under which lot code may vary based on the original product and its transformation.
Typically, this is how it works: An initial packer or receiver assigns the first lot codes. These stick through the supply chain unless a certain degree of transformation occurs. Examples could be a stalk of celery cut into a pre-packaged snack or meat ground to sausage. Those changes would trigger new lot codes.
Since lot codes can follow products for long portions of the supply chain, their traceability is a core responsibility for food and beverage companies and their logistics providers.
Here, we'll reveal how computer vision supports fast, accurate visibility into the end-to-end journey of each code, including any codes that came before or after transformation. By automating lot code traceability, you can simplify compliance and unlock insights that help direct your company's next steps.
1. Limit Inventory Loss
Discrepancies, like missing or incorrect lot codes, can lead to significant risk and loss for companies. There are a number of ways these discrepancies can create issues.
For example, if the actual lot codes on freight don't match the lot codes on the bill of lading, it can lead to inaccurate counts or removal of freight from shipments. Issues with expiration dates may also disrupt the movement of freight.
Affected lots may be placed on hold until issues are resolved. Managing these holds increases effort across the warehouse, spurring unexpected physical labor and updated communications that some people may miss. The loss of efficiency can risk delay, which can in turn lead to higher landed costs. 
If you can't discover a resolution quickly enough, some lots may end up being destroyed. Destruction furthers the loss caused by holds, tanking procurement and distribution investments and forecasted profits. 
If customers are the ones to catch the discrepancies, things may become more complex, undermining trust and threatening market share.
How Computer Vision Helps: With Kargo, you can automatically flag discrepancies between physical freight and bills of lading. Kargo Towers alert warehouse staff to issues with a visual indicator as pallets pass the dock. This lets you address errors like inaccurate lot codes or past expiration dates before they become more complex. 
These capabilities can be particularly useful when you have freight placed on hold. If someone misses communications related to the hold or accidentally moves the wrong pallets onto the truck, Kargo can help ensure you don't mis-ship or violate compliance requirements.
2. Handle Recalls with Certainty
Recalls can be stressful for everyone, but with high-quality data and accurate recordkeeping, they're easier to manage. 
In the event of a recall, your risk of regulatory violations may increase if your traceability program fails to meet requirements. Lot code requirements mostly arise from traceability rules, but different rules apply to different sectors of food and beverage. 
The consequences of non-compliance can be severe. In addition to fines or other penalties, an inability to thoroughly trace lot codes can result in recall of an entire product line. Entire facilities may be subject to injunction or otherwise unable to operate or ship.
Stringent recordkeeping helps mitigate these risks, but not all recordkeeping solutions are purpose-built for every sector.
This can create an administrative burden that falls on companies to figure out. Done manually, leadership typically needs to enact broad programs across business units that include heavy labor and technical resources stitched together. Gaps or inconsistencies in these programs or their execution create additional risk. 
How Computer Vision Helps: Computer vision automates capture and verification of lot codes as pallets pass through facilities. 
Kargo Towers deliver data that includes dates, times, dock doors, how many pallets contain each lot code,  and which pallets may contain more than one lot code. Constellation mapping ensures all data attributes are included. Image and video of shipping and receiving activity backs up documentation. Since everything is automated, data is completely accurate. 
Alphanumeric and visual data is easily accessible. Kargo integrates with your existing warehouse management and inventory systems, so you can manage shipments seamlessly. On the Kargo Platform, you can search by lot code or by other information, like customer name or facility.
When recordkeeping is under control, it's easier to respond to regulatory agency requests for data and reports. Some of these requests may include specifications around report formats. Turnaround times are usually tight: The expectation is that your company has the data ready to share. With computer vision, it is.
3. Stay Ahead on Compliance
Another business challenge is changing regulations. As consumer demand, safety information, and technology evolve, regulatory change may follow. This may require companies to keep new types of records related to lot codes, increasing effort and risk. 
A major increase in regulatory burden is coming up in 2026 with the Food and Drug Administration (FDA) Food Traceability Rule under the FDA Food Safety Modernization Act (FSMA). 
The Food Traceability Rule's requirements will allow for faster identification and removal of potentially contaminated food, resulting in fewer foodborne illnesses or deaths.
The rule will also multiply recordkeeping requirements for certain food producers and shippers. It requires companies subject to it to maintain records containing Key Data Elements (KDEs) associated with specific Critical Tracking Events (CTEs). 
One of the KDEs for both shipping and receiving is a traceability lot code (TLC). The TLC is one of the most critical components of the Food Traceability Rule because it supports more efficient investigations and product containment in the event of foodborne illness.
TLC requirements are more restrictive than traditional lot coding practices. They require initial packers and seafood receivers to assign the lot code, which stays with the product
The main difference is that traditional lot codes identify inventory within a company's internal system. Under the Food Traceability Rule, TLCs identify lots throughout the entirety of the food and beverage supply chain. 
This has interesting implications for recordkeeping. TLCs must be globally unique, which challenges companies to either merge data, create connections between internal lot codes and Food Traceability Rule TLCs that increase data, or both.
How Computer Vision Helps: Automated data capture can help ease the lift of upcoming compliance burdens. 
Kargo Towers process approximately 3GB of data per second at every loading dock: That's definitely enough computing power to capture new traceability lot codes across your entire supply chain. 
Plus, when you implement Kargo, we create current and future state maps of your operations. Our team performs constellation mapping of your label requirements to capture data attributes that matter to your business. If you're subject to the FDA's new Food Traceability Rule, we can work with you to ensure TLCs are appropriately captured and recorded.
Shipping and receiving data is automatically delivered to your existing systems. You can easily search for data and create reports upon agency request or show inspectors that you're compliant when the time comes — or earlier. 
In this way, recordkeeping can become a competitive advantage. While other players are making an intense transition, your company can have already developed the capabilities required for standardized traceability.
4. Deliver Data to Inspectors
Most food and beverage facilities are subject to regular inspections. For example, facilities subject to FSMA are typically inspected every three or seven years, depending on their categorization as high risk or non-high risk. When risk factors are evident at the company or facility level, this may increase inspection frequency, too.
If an agency discovers a violation during an inspection, a company could face regulatory action, such as a warning letter, seizure of products, or injunction. Consequences may apply to the inspected facility only or entire supply chains. 
How Computer Vision Helps: With complete and accurate recordkeeping, compliance teams can provide data to inspectors quickly and easily. Since computer vision eliminates human error and automatically structures the delivery of data for retrieval from your existing inventory systems, reports are easy to turn around on demand. Your company can focus on getting through the inspection with confidence because every lot code is accounted for and easy to find and trace.
5. Earn Warehouse Accreditations
It's worth noting not all warehouse inspections are regulatory in nature. Some inspections are welcome as a prerequisite to an accreditation that could drive business growth. Established food and beverage warehouse or facility certifications recognize the compliance mandates of the FDA or USDA and provide credentials for companies or facilities that surpass these standards. 
How Computer Vision Helps: Compliance is a prerequisite for accreditations from organizations like ASI or the American Institute of Baking, both of which offer popular industry credentials. Having these types of certifications demonstrates a commitment to food safety, sanitation, and quality in warehouse operations. They can enhance your reputation and build trust with regulatory agencies.
6. Discover Growth Opportunities 
Beyond compliance and risk mitigation, your company's lot code capabilities may contribute to valuable growth opportunities. Analysts, quality control, and product marketing teams may be able to discover correlations between specific lots and supply chain trends, like chargebacks from a certain retailer or seasonal demand in specific geographies.
Some companies may not be positioned to harvest these insights due to inconsistent, incomplete or low-quality data around lot codes. That's because lot codes aren't always standardized and, in some cases, aren't even required, except as requirements arise from other traceability regulations.
There may also be weaknesses around data capture, especially if warehouses still operate manually as a whole or in parts. Impacts like labor shortages or even simple human error can make it difficult to assure complete data accuracy. The deficiency can prevent meaningful analysis. 
How Computer Vision Helps: Computer vision provides complete accuracy in data capture. As long as lot codes are properly included in bills of lading and on labels, your shipment activity data can show the precise journey of each lot.
Kargo Towers automate the process of scanning and interpreting lot codes from various sources, such as product labels or packaging, ensuring high-quality data for analysis. Data can be extracted even when labels are fuzzy or behind cellophane, so that analysts can trust what they see and deliver actionable insights to leadership.
Questions?
Connect With us
Ask us anything or drop your email to stay in touch