New: Kargo Forklift Cameras Extend Shipment Visibility
See more of every shipment. The new Kargo Forklift Camera extends Kargo's computer vision capabilities, capturing new angles and going beyond the dock and into the trailer.
What You Need to Know
Kargo is pleased to announce the launch of the Kargo Forklift Camera, a mobile camera that attaches to standard forklifts and delivers visibility beyond the loading dock.
The new cameras provide more ways to capture shipment data and flag damages, including at the front of pallets, where they're most likely to happen.
With visual proof of shipping activity, companies can ensure safety compliance and confirm pallet counts and condition as freight passes through the loading dock and into the trailer.
The Kargo Forklift Camera expands the capabilities of the Kargo System, a computer vision solution that gathers information from freight and warehouse operations and delivers data to digital platforms and management systems.
Email go@mykargo.com to order Kargo Forklift Cameras now.
How It Works
The Kargo Forklift Camera includes four high-resolution cameras, a wide-angle camera, a time-of-flight sensor, and a rechargeable battery within a rugged housing.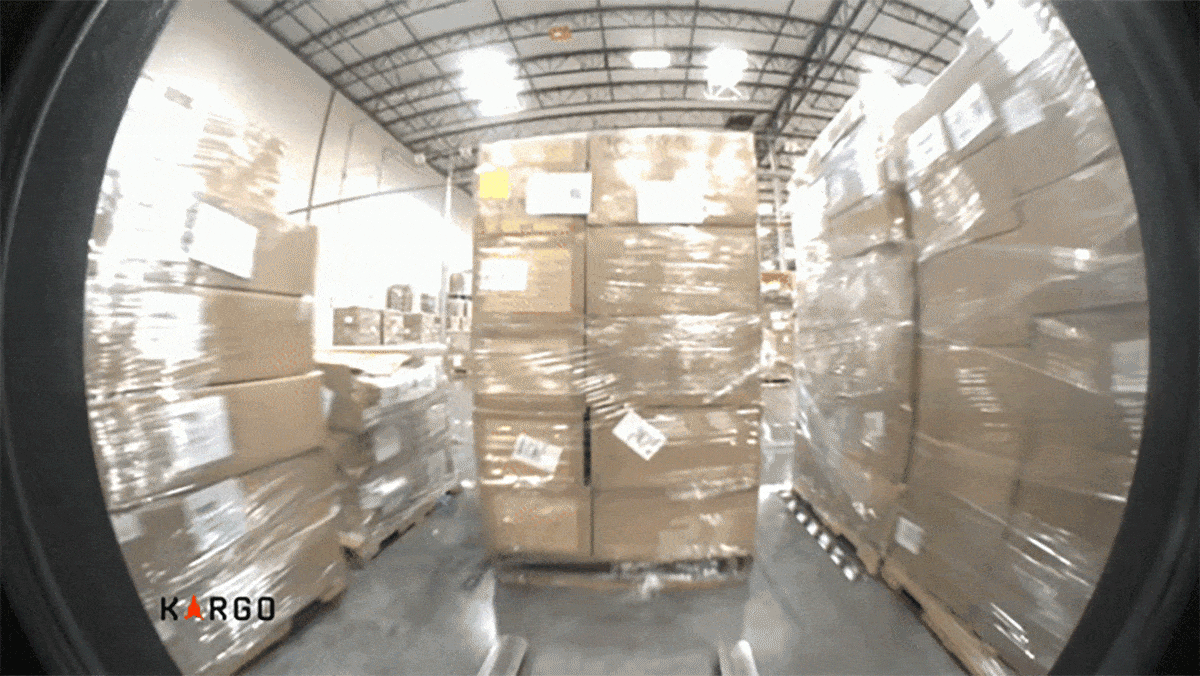 The camera clamps onto the backrest of standard forklifts and activates as the forklift approaches pallets to capture photos and videos. 
Typically, forklift cameras attach to the top of the cab, where the mast blocks visibility. The Kargo Forklift Camera's innovative backrest position allows an unobstructed view for more complete visibility of pallets and the warehouse environment.
Using computer vision, Kargo extracts key details from camera visuals to provide information on shipping activity, including pallet data, damages, and safety compliance.
All data gathered by the Kargo Forklift Camera, including visual proof of shipments and other events, is instantly available for review on the Kargo Platform.
Why It Matters
Computer vision can provide full visibility and automated accuracy for logistics.
By offering clear visual coverage from more angles and within trailers, the Kargo Forklift Camera contributes to a more complete story of every shipment:
See the front of pallets, where damage is most likely
Capture visual proof of shipments beyond docks
Eliminate manual picture-taking inside trucks
Increase quality of evidence for OS&D claims 
Flag safety violations for continuous improvements
With the release of the new Kargo Forklift Camera, customers can prepare their operations to stay competitive in an increasingly high-demand industry.
Questions?
Connect With us
Ask us anything or drop your email to stay in touch